Thai Crunch Salad
Thai Crunch Salad
Ever go to a restaurant and think 'I could totally make that at home'...
I think that almost daily. I love the experience of eating out but I enjoy the comfort of knowing what ingredients are in the meals I am eating.
When to a great sushi spot last week and had a colorful crunch salad. Here is my attempt to a homemade version! Super easy and just as exciting to make as it is to eat.
Whatever vegetables you have available are perfect. I grabbed a few options of cabbage, zooddles, & I 'ribboned' my carrots (cutting them with my peeler). My bell peppers were on their last day but still a perfect pop of color and flavor.
Cut all veggies! I zoodle my zucchini and ribbon cut my carrots- cutting them with the peeler. Not only is it colorful- but cutting the vegetables in different style is also stimulating (for a foodie like me!)
Let's talk about the sauceeee. I've learned that Israelis LOVE their sauces- dosed in sauce (always ask for dressing on the side). I tend to be 'relaxed' when measuring. Y'all know I don't even have measuring utensils (mostly cause i'm still adjusting to grams instead of tablespoons/cups).
~loosely measured
2 tbsp Sesame Oil as the base

1 tbsp Rice Wine Vinegar

½ tbsp Fish Sauce

½ tbsp Soy Sauce

1 tbsp Honey

4 Limes Juiced
If you are meal prepping for the week I would suggest keeping the dressing on the side.
Top with your favorite protein (I did tuna or hard boiled egg!)
Bet'avon (hebrew for Bon Appetit.. English translation? Eat Up!)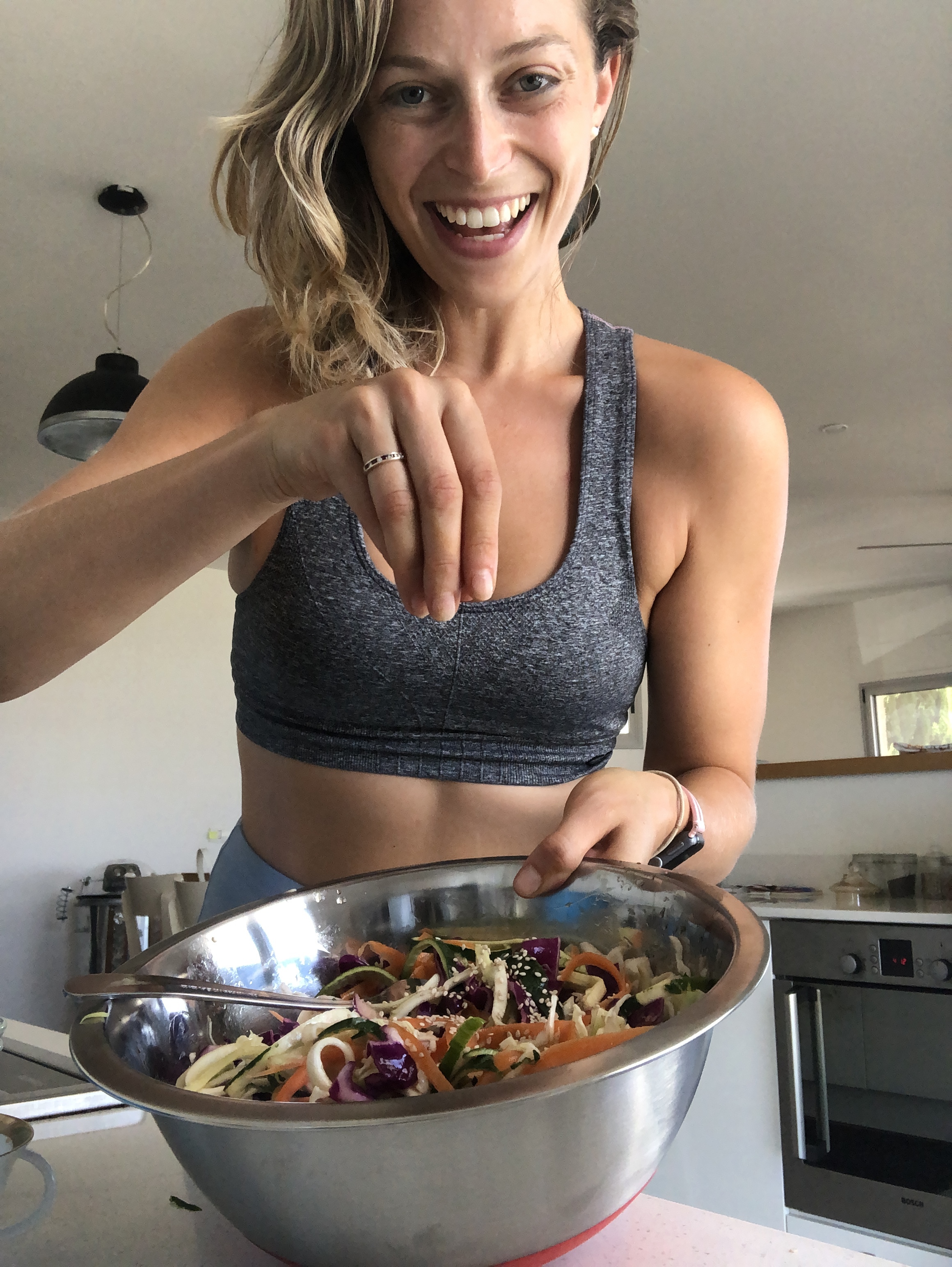 Check out this recipe on IGTV
Worked up the courage to make my first vlog today! And it was worth it.. Well the salad was worth it that is! Let's see what y'all think about my recipe?
You can catch my recipe on IGTV! Since y'all said that's where you watch more videos.
Just in case here a quick review of the recipe.
Chop whatever colorful vegetables you have left in the fridge.
I picked..
Savoy Cabbage
Purple Cabbage
Carrots
Broccoli Stems
Red Bell Pepper
Dressing: (roughly measured since I love to wing it..)
2 tbsp sesame oil
1 tbsp rice wine vinegar
2 tbsp fish sauce
2 tbsp soy sauce
½ tbsp honey, agave, or maple syrup
Juice of 4 limes
Optional sesame seeds
Optional fresh herbs (I used mint + cilantro)
Mix well and serve fresh! If you are waiting to serve the salad- add dressing right before you serve! Enjoy!